• FEATURE: CLASSICAL TRAINING
Classical Theater Training
Why blending the old school with the new doesn't have to be such a battle.
By Linda Armstrong

As an actor do you yearn to bring the work of playwrights such as Chekhov, Moliere and Shakespeare to life? Can you feel the heightened language welling up and waiting to emerge from your lips? If bringing the classics alive is your ambition in life, than you must realize that the play—and the language—are the things, and can mean a lot of work on your part.

For four years African American actress Erica Tazel has been practicing her craft and making sure to include the classics. She has performed in A Winter's Tale at the New York Shakespeare Festival, Summer 2000, in Cymbeline with Theater for a New Audience in New York 2001, which went to the Royal Shakespeare Company in England and Much Ado About Nothing at the Old Globe in San Diego, Fall 2003. "I think classical works are challenging because I do have a tendency to make the language so precious, because it's elevated language. I try to make it more than what it is and it doesn't require that, so my greatest challenge is making it sound like everyday language," she said.

Her acting plate has included both contemporary and classic works. Comparing the two, Tazel said, "classical works are much more challenging physically, because of the words and the enormity of the story. In Cymbeline, I played Imogen, a princess whose husband is banished from town because he's not approved of by her father, who wants her to marry his evil stepson. It's a three and a half play and I was on stage for two hours and 45 minutes. Contemporary plays I've done like Crumbs From The Table of Joy by Lynn Nottage, have been two hours total." Tazel, who holds a masters of Fine Arts from New York University (NYU), where she learned voice techniques from Shane Ann Younts, advises students training in classical theater to "Listen to your teachers, because they really do know what they're talking about."
Along with teaching voice for the graduate acting department of NYU, Shane Ann Younts has a private business, where she teaches voice, speech, text and Shakespeare. Actors have to have clear, standard American speech, a strong voice and breath control.
Gerald Sievers, Stacie Koby, Michael Wolfe, Basia Kapolka learn what it takes to pull off classical theater in the Actors Movement Studio's Epilogue to Tyrannic Love.
Lift Out Key Words

"I have lots of exercises about increasing the range—highness and lowness of the voice. American speech patterns tend to be monotone, which would make Shakespeare boring to listen to. The actor needs to know how do you build a speech, express contrasting ideas, and how to pull out key words or operative words. For example, `is this a dagger which I see before me' is a line from Macbeth, the operative word is dagger, because that's what he sees, though it's not there. Learn to lift out dagger, without throwing out the rest of the line, which is `see before me,' because it's part of my imagination," said Younts.

Younts teaches first level and advance classes. First level meets on Mondays and Thursdays from 4-5:30 p.m., and includes learning all the individual speech sounds and standard American speech, relaxation, breathing, resonance, volume exercises and learning to increase the range of the voice. "All of that is applied to specific text. That's what separates what I do from other speech classes, everything is applied to text, it's not just making sounds. And the class provides, speech work, with voice, with text work—a lot of people teach them separately," Younts said. Advanced class is 5:30-8 p.m., Mondays and Thursdays. Younts is interviewing now for the class that will begin in the fall.
Language Discomfort

How can an actor make Shakespearean language easier for the audience to digest? "The first thing that happens is the actor has to understand what the actor is saying, if the actor does it makes it easier for him/her to make it clear to the audience. The second thing would be for the actor to be excited by the form itself. The heightened language of any of these plays has to be spoken in a realistic way and grab the audience's attention. It takes work and practice. Shakespeare's language done well, is a living, breathing language, the audience should be excited, energized and uplifted. The diction needs to be clear the voice has to have a resonance and range to it that can express those ideas," Younts said.
These days classical theater is often cast utilizing non-traditional casting. "I come from a school of the graduate acting dept. of NYU and that's crucial in terms of the casting. Out of 18 students we have four African American, two Asians, less than half the cast is White. We're preparing our actors to go into a world that's casting like us. For theater to survive it's crucial that all races are included in casting. Just so they are talented and can handle the demands of the language, that should be the criteria," she said.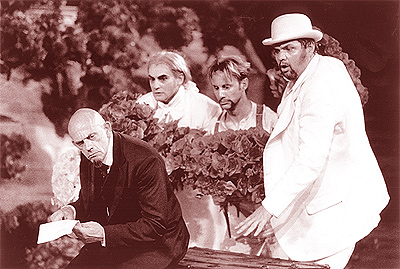 Christopher Lloyd and Oliver Platt take tackle Twelfth Night at Delacorte Theater.
Classical Training Abounds

Throughout Manhattan there are acting schools that offer classical training. Among them are American Globe Theater Conservatory, HB Studios, Lee Strasberg Theater Institute, and Actors Movement Studio. Each has an area speciality and views classical theater in a specific way.

If, when you think of classical training you ponder "to be or not to be," then the American Globe Theater is for thee. Its focus for 16 years has been original Shakespeare, first folio work. "First folio came from Shakespeare's actors cue scripts. Spelling, capitalization and punctuation that are all acting cues that help unlock the text. It helps us to turn the text into a blueprint and we think it's closer to what Shakespeare's actors had.

Shakespeare's punctuation was for speaking, not for grammar, the way editors change it today. Shakespeare's punctuation gives the text a forward momentum. If an actor unlocks the text with the technical and blends it with their method training it really makes the soul. They're three dimensional and we want to find the humanity in these plays. They are living human beings with real needs. In our productions we use a rough and ready method to work on the script. It's a rehearsal process where you find a situation in a play and act upon it immediately. We're finding more meaning in the play, and character idiosyncrasies that make them more unique," said John Basil, founder of the American Globe Theatre Conservatory. In handling classical works, Basil mentioned things you should keep in mind.

"Classical language is written in poetic form, so it's heightened, an actor needs to use different muscles to do this kind of verbal gymnastics with the language. There are many more repetitions, rhymes and similes, then you have in any other language.
Sometimes Shakespeare speaks in rhyming couplet, but Moliere always speaks in rhyming couplets, so an actor has to speak and not sound like they are doing nursery rhymes. That comes with training and practice. With enough training Shakespeare can be a fabulous thing, it's the language of the gods, but you have to earn your right to do it," Basil said.

American Globe offers various classical theater training classes. A Shakespeare series consists of classical speaking the text—which is a scene class; staging from the text—an advanced scene class; a master class which deals with Shakespeare; Restoration comedy; Chekhov and Ibsen. There is a monologue audition workshop and a script analysis class. All start the week of June 14.

Research is Key

"The most important thing that I do, is I study the way that the character speaks as a big clue. Then I make a list of everything that everybody sells about the character. When we did Othello, we counted how every character said that Iago was honest, though he wasn't. When an actor did something devious I told him, `you're giving it away.' All these plays have such great resources that you can go to. I go to a book, the Varioum, it gives a great definition of all the words, no matter how old and it tells you about all the scenes. You may have to go to Richard Stoddard, he sells old used theater books and they are a great resource for me. Twentieth Century Reviews series gives directorial explanations of the plays and they bring up things from a unique point of view," Basil said.

HB Studios offers classes in acting Shakespeare over the summer session. Alec Harrington, teaches Act Shakespeare at HB and is a member of the faculty of the Gallatin School of NYU. "The two traps that actors fall into with classical theater, is on the one hand treating the language as everyday colloquial speech, which it's not. No one spoke in verse. The other mistake is dealing with the heightened language as something that is imposed on the outside from the actor or playwright, as opposed to something that is connected to what the character is trying to do in the scene and to what the character is feeling. A useful way of approaching heightened language is to understand, that it is the character who is choosing to use heightened language to get what he or she wants. And therefore the character will use the language to it's fullest effect. Just as if you are playing a scene in which you wanted to kill someone and there was a knife on stage, you'd use the knife," Harrington said.

"Shakespeare reveals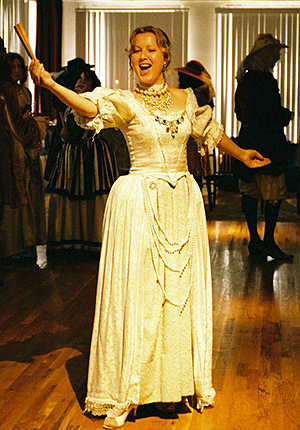 character through the verse, it reveals not just what the character is saying, but what they're going through emotionally and psychologically. The tendency of most actors is to put a wash of feeling over like a coat of paint. I'm angry or
I'm hurt. But if you do the verse right, the verse will teach you
how to say it. We spend most of our time trying to help the actor to communicate," said Geoffrey Horne, who teaches Strasberg and Shakespeare at the Lee Strasberg Theater Institute (formerly the Actor's Studio).

"Young actors have to do their homework. They just think, 'I'll learn the lines and God will inspire me.' It's hard work, it's just like learning to act in a different language. Young actors think if they just feel something, that's all they need to do. It's not enough. You've got to do homework. It would be nice if they read the play, many don't. I've had many students who have said they never read (Shakespeare in high school). They are often starting from scratch. They have cheater plays, "Shakespeare made easily", original work and translation into modern English. You have to understand the psychology," Horne said.

The Whole Kit and Caboodle

If you want to know not only how to speak classical words, but how to recreate the period down to the snuff box, hair, make-up and costume, then you must inquire at Actors Movement Studio, the ultimate classical theater experience.

For 25 years Actors Movement Studio has enabled actors to do the works of classical writers in period setting including: Elizabethan, Baroque and Edwardian. Ted Morin and Janice Orlandi, senior faculty members and co-directors talked about what's necessary to learn classical theater.

"In order to learn classical style an actor must have complete command and control of his physical instrument, while at the same time having a physical body that is open, free of tension, a voice that resonates and is full. It's having all the physical elements of length of spine, deportment, protocol and dances of the particular period," Morin said.

"When we teach a period of style we teach the bows, walks, use of fan. The way people wore clothing, jewelry, hairstyles, and the music of the era, to get actors into the rhymes. We teach it in the context of a class where all the actors take on the character of a historical person who lived in that period. Then we put them together to do an improvisation scene. The actors researched the characters, music, relationships of the period and through the creation and development of their character and the practice of the style of the period, come together at the end of the semester in full period costume and improvise a party or gathering (we call it a salon). It's an improvisational experience within a particular period," said Orlandi.

"The style of the period needs to be second nature to the actor or their attention is, 'am I working correctly, did I bow.' An actor can't think of this while on stage, his attention needs to be what's happening at that moment on stage. So it's a mastery of a period that enables an actor to be able to act that period," Orlandi said.
Actors Movement Studio offers Lloyd Williamson technique, Sanford Meisner and the Movement dance work of Anna Sokolow. "We put our actors in period style costumes and we have jewelry endowed with the pre- history of the people. We teach them to endow the objects, jewerly, clothing, fans, snuff boxes, diaries, with the character's history and relationships. A costume isn't just a costume, it has a history," Orlandi said.

Acting courses are offered at the following locations:
Actors Movement Studio, PO Box 1098, New York, NY 10018.
Phone: 212-736-3309; fax: 212-736-2596.
American Globe Theatre Conservatory, John Basil, 145 W. 46th St., New York, NY 10036.
Phone: 212-869-9809; fax 212-869-9807.
GATE, 28 W. 27th St, New York, NY 10001.
Phone: 212-689-9371 or www.GATEacting.org.
HB Studios, 120 Bank Street, New York, NY 10014.
Phone: 212 675-2370 or www.hbstudio.org
Lee Strasberg Theater Institute (Actor's Studio), 115 Lee Strasberg Way (E. 15th St.), New York, NY 10003.
Phone: 212-533-5500 or www.strasberg.com.
Shane Ann Younts, 160 W 73rd Street, New York, NY 10023.
Phone: 212-877-2567 or www.allthewordsonstage.com.